Circle of Stories 2020 Tour w/ Dave Elkins (Mae), Mark Rose (Spitalfield), Ryan Dunson (Rookie Of The Year) plus John fr City Under Siege, Shane Archer Reed, Jonathan Hape, and The Victory Drive 4/1
April 01, 2020 07:00 PM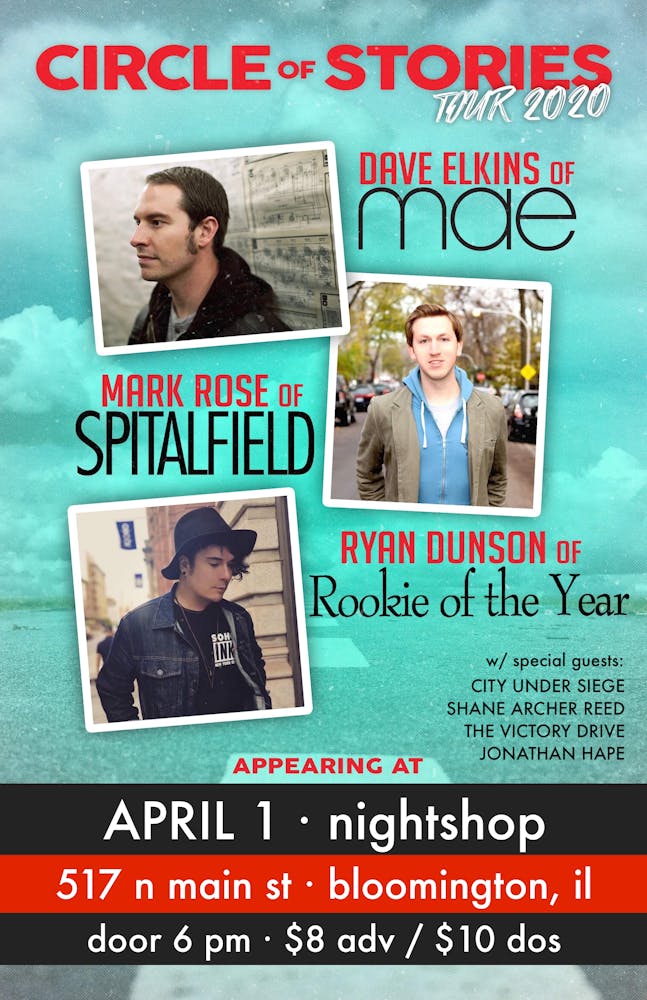 We're excited to host this year's
Circle Of Stories
Tour, and this stop features a packed bill of music!
Dave Elkins
(Virginia Beach, VA) - Rock, Indie
Dave Elkins is the leader of longtime greats,
Mae
!
Mark Rose
(Chicago, IL) - Singer-Songwriter, Alternative, Emo
Chicago artist Mark Rose (
Spitalfield
) took a huge step forward with his label debut The Wild Type (9.25.15 via InVogue Records). "My stride on this album is a bit dark and haunting, but hopefully in an alluring way."
Ryan Dunson
(Raleigh, NC) - Indie, Pop, Rock, Electronic, Acoustic
Ryan is the singer of
Rookie of the Year
.
Billboard top 100 artist Rookie Of The Year established itself upon the strength of two early indie label releases. 2006 saw the release of their debut breakthrough album, The Goodnight Moon, on OneEleven/Warner Bros. Records. This album would put Rookie in the international spotlight and go on to sell over 120,000 units. Two more records (EP/LP) would follow over the next six years while the band continued to tour constantly as a headliner and in support of major acts such as Mutemath, Ryan Cabrera, Hot Chelle Rae, Quietdrive, Ashlee Simpson, Relient K, Mae, and more.
After years of international touring, song placements in film and TV, 200,000+ records sold, and multiple Billboard-charting albums and singles, Ryan Dunson toured under the Rookie Of The Year moniker as a solo act for the better part of five years. Rookie Of The Year returned with tours with Sherwood, He Is We and Forever The Sickest Kids in 2017. The group is now back as a full band, signed to Cardigan Records, and is currently working on new music and touring nationally on a regular basis.
This will be an in-the-round set-up, and isn't to be missed! Dave, Mark & Ryan will be on stage at the same time for a 3-man storytelling writers round! They'll alternate songs from their collective catalogs, both from their bands and solo material, backing each other up! Mark is kind of a boss at this stuff, and keeps bringing sweet bills to our room, and we're glad!
They'll be joined by several openers:
Another in-the-round setup, this time with
John
from
City Under Siege
(Buffalo, NY) and
Shane Archer Reed
(Oneida, NY)!
An appearance by ornate Indie Rockers,
Jonathan Hape
+ band (Columbus, OH)!
And, Power Poppers,
The Victory Drive
(Belmar Beach, NJ)!
Whatever you do make sure you spend your April Fools' Day eve at nightshop for this unmissable show!
Doors: 6PM
Music: 7PM
Cover: $8 Advance Tickets at the attached link/$10 At the Door
All Ages Until 10PM
Tickets